Maritime Consultancy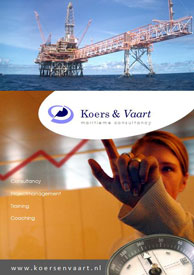 The success of your strategy will be detemined by the willingness and strength of your people to change. Setting clear goals and a willingness to learn along the way are important ingredients for gradual and succesfull changes.
The role of Koers & Vaart is determined by the nature of the changes, as generalist or specialist. Varying from executor, innovator and inspirator to coach, troubleshooter or supervisor. Under all circumstances we pay proper attention to the accurate management of processes.
Organisational changes are seldom totally independent. Changes are becoming more and more dependent on chain management. This will increase the complexity, but will also increase the benefits of the changes. Koers & Vaart has thorough knowledge of the maritime supply chain and is therefore able to assist your company to work more efficiently and effectively in its supply chain.